Water or Flood Damage occured in your Danville home or business?
We service Danville, CA., with water damage services, including water removal, dehumidification, quik drying of carpets, walls, ceilings and sub-floors. We also provide sewage cleanup and de-flooding of under house crawl spaces.

---
SEE PHOTOS BELOW.
---
CONSUMER ALERT! Only hire licensed Contractors! Our CA State Contractor's License is #901060. Who must be a licensed contractor? Click the CONTRACTORS button to the left. BBB Accredited Business. Better Business Bureau.
---
24 Hour Emergency Service or Consultation
Water Removal, Structural Dryout, Cleanup
Moisture Inspections
Call Toll Free: 1-877-784-5379
Broken or leaky pipes, toilet and sink overflows, washing machine malfunctions, leaky water heaters, leaky refrigerator supply lines, clogged sewer lines; These are the most common causes of water damage in homes and businesses that we respond to. If something like this (or any other unwanted water intrusion) has occured in your home or business, please call us as soon as possible. We will do our best to help you get your life back to normal in as little time as possible.
Below, this was a water damage that was ignored by the homeowner, and was not professionally dried out. Suspect microbial growth occured in the walls. The cleanup and reconstruction costs far exceeded what it would have taken to properly dry the walls immediately after the water damage occured.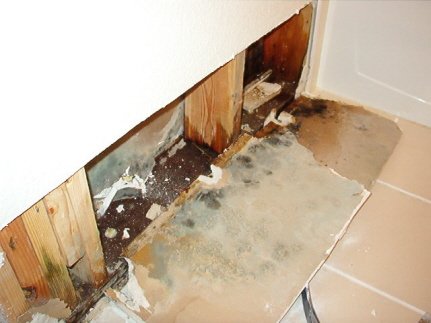 Don't let this happen to your home! Get it dried out, Quik!
---
For a more detailed explanation of our process see our
"HOME"
page and check out a brief sampling of our Water Damage job photos.
---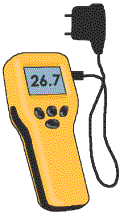 Sensitive moisture meters detect trapped and hidden moisture in and below the surface of building materials. Hidden and trapped moisture, if not discovered and promptly dried, is what causes most of the damage in a water damaged building.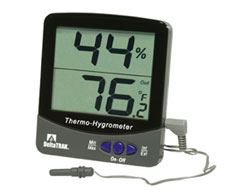 In severely water damaged buildings, a thermal hygrometer is used to monitor temperature and relative humidity. This allows the water damage technician to monitor the amount of moisture in the air and adjust drying equipment accordingly. This practice is called "psychometry".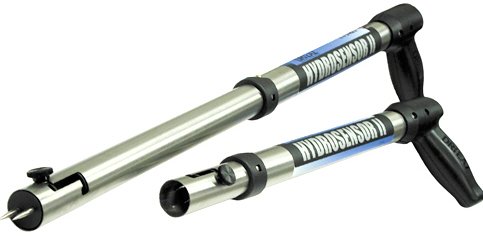 A "Moisture Stick" is used to positively identify carpet and padding that is wet. Often the surface of the carpet will appear or feel dry but the padding and sub-floor below is saturated. This tool identifies these areas.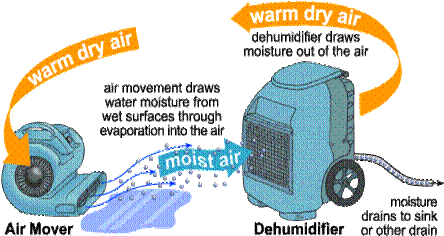 ---




When your home or business has water damage you should call a water damage restoration expert like 1-877-QUIKDRY, immediately. 1-877-QUIKDRY offers 24 hours water removal and extraction services so you won't have to wait. Remember the longer the water stays the more damage it does. This means that while waiting for help to come you should start water removal by doing the following:
•Bail out/mop up as much water as you can while waiting for professional help to arrive.
•Remove all wet fabric (clothes, drapes, sheets, etc.), cushions, and rugs and hang them out to dry.
•Wipe all the furniture with dry cloth.
When the professionals arrive they will take over the process of water removal. Note though that water extraction is simply the first step in water damage restoration. Water damage restoration will entail other processes like structural drying, mold prevention/removal, and decontamination, among others.
We offer the following services: Water Damage | including water removal or extraction | Flood Damage | Sewage Cleanup |Sewer Backup Smell | Restoration | Remediation | Crawlspace Flooding | Basement Flooding | Plumbing leaks | dryout | Ceiling Drying | To the following greater San Francisco Bay Area cities.: Alameda | Albany | Antioch | Atherton | Belmont | Benicia | Berkeley, Brentwood | Brisbane | Burlingame | Castro Valley | Crockett | Cupertino | Daly City | Danville | Dublin | El Cerrito | Emeryville | Fremont | El Sobrante | Hayward | Lafayette | Livermore | Los Altos | Milpitas | Martinez | Millbrae | Marin | Mill Valley, Newark | Oakland, Pacifica | Piedmont | Pinole | Pleasant Hill | Pleasanton | Redwood City | Richmond | Rodeo | Sausalito | San Rafael | San Anselmo | Tiburon | San Bruno | San Carlos | San Francisco | San Jose | San Leandro | San Lorenzo | San Mateo | San Pablo | San Ramon | South San Francisco | Sunnyvale | Union City | Walnut Creek | CA. Water Damage.