Water Damage to your home or business? We service Roseville and Rocklin, CA. with water damage services, including water removal, dehumidification, quik drying of carpets, walls, ceilings & sub-floors. We also provide sewage cleanup and de-flooding of under house crawl spaces.
(SMART PHONE USERS)

---
24 Hour Emergency Service or Consultation
Water Removal, Structural Dryout, Cleanup
Moisture Inspections
To Speak with a Live Water Damage Professional:
Call Toll Free: 1-877-784-5379 or 916-985-8973
Broken or leaky pipes, toilet and sink overflows, washing machine malfunctions, leaky water heaters, leaky refrigerator supply lines, clogged sewer lines; These are the most common causes of water damage in homes and businesses that we respond to. If something like this (or any other unwanted water intrusion) has occured in your home or business, please call us as soon as possible. We will do our best to help you get your life back to normal in as little time as possible.
Below, this was a water damage that was ignored by the homeowner, and was not professionally dried out. Suspect microbial growth occured in the walls. The cleanup and reconstruction costs far exceeded what it would have taken to properly dry the walls immediately after the water damage occured.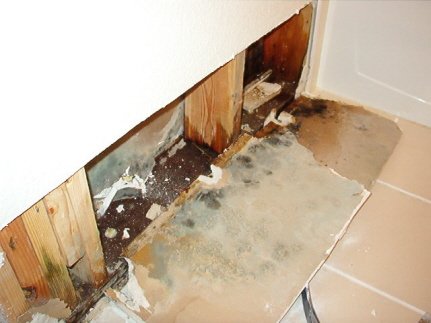 Don't let this happen to your home! Get it dried out, Quik!
---
For a more detailed explanation of our process see our "HOME" page and check out a brief sampling of our "Job Photos"
---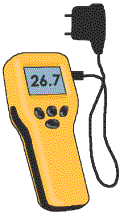 Sensitive moisture meters detect trapped and hidden moisture in and below the surface of building materials. Hidden and trapped moisture, if not discovered and promptly dried, is what causes most of the damage in a water damaged building.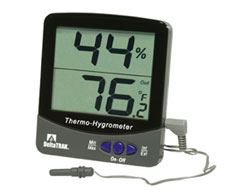 In severely water damaged buildings, a thermal hygrometer is used to monitor temperature and relative humidity. This allows the water damage technician to monitor the amount of moisture in the air and adjust drying equipment accordingly. This practice is called "psychometry".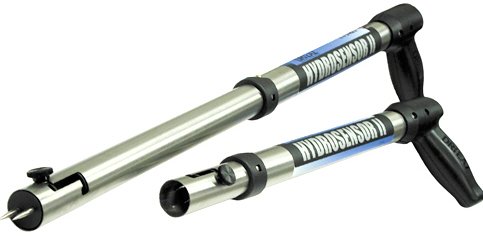 A "Moisture Stick" is used to positively identify carpet and padding that is wet. Often the surface of the carpet will appear or feel dry but the padding and sub-floor below is saturated. This tool identifies these areas.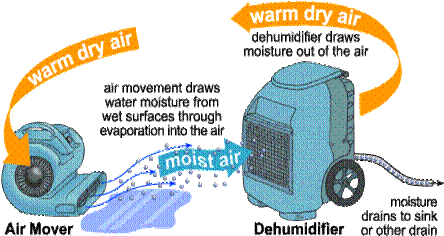 ---
Unmitigated, Water damaged buildings can be the perfect breeding place for mold. Mold needs two things to grow in almost any environment, a food source (building materials in your home) and moisture (from water damage). As a restorative drying company, it is our goal to take away the moisture from the equation in a timely fashion so mold never gets a chance to germinate and subsequently sporify. In many instances this can be accomplished without the use of any type of anti-microbials or chemicals.
Water damage restoration is a specialized field that requires special protective measures, specialized equipment and testing capabilities as well as certain engineering controls to protect you and your property. These days, Water damage restorative drying is a highly skilled and technical profession. In fact, most technicians use advanced restoration and inspection tools such as infrared cameras to efficiently detect trapped and hidden moisture in building materials. Technicians are certified through classroom training that is updated yearly by a certifying board called the IICRC. Water damage can be the starting point for many serious problems that can affect a building, damage personal property and present serious health risks to occupants. Water damage mitigation is something that must be dealt with quickly and effectively.
Rapid response is critical to reduce damage from water intrusion into a building, that may come from broken water pipes, overflowing toilets, sewer back-ups, broken water sprinklers, roof damage, etc.
We offer a wide array of services such as water removal, structural and building material dryout, sewage remediation, moisture inspections, crawlspace cleanup and mold removal.
Initially we will inspect the damaged property following guidelines set forth by the I. I. C. R. C. We will then develop a drying plan to get your property back to a pre-loss "DRY" condition. 1-877 Quikdry, Inc. is experienced and knowledgeable in water damage restoration and microbial contamination remediation.
Roseville and Rocklin Plumbers and Plumbing Companies
Although water damage can be caused by many sources, often the cause is a plumbing related issue. Old pipes rust and corrode, plastic and rubber can rot and crack, drains clog, installation is poor or faulty, and many other plumbing related issues can cause water damage. It is always good to have a established relationship with a plumber or plumbing company prior to having a water damage. A plumbing company that offers 24 hour emergency service is always helpful.

---
We also offer carpet cleaning to
Folsom, and Roseville.