Water Damage Equipment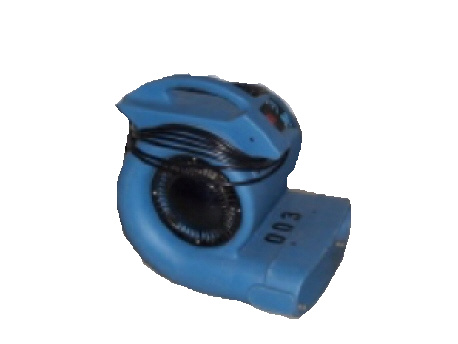 TURBO AIR MOVER, THE "WORKHORSE" OF DRYING EQUIPMENT. USED TO DRY WALLS, FLOORING, ETC.
---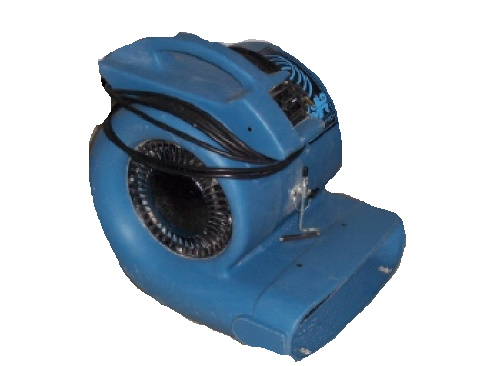 TURBO AIR MOVER EQUIPPED WITH A "CARPET CLAMP." THIS IS USED TO FORCE DRY AIR UNDER WATER DAMAGED CARPET, QUIKLY DRYING THE CARPET AND SUB FLOORING BELOW.
---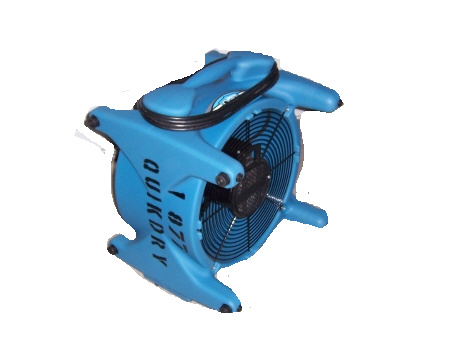 LOW AMP DRAW, AXIAL FAN. USED TO DIRECT AIR UP AT CEILINGS OR OTHER ANGLES. ALSO USED WHERE ELECTRICAL POWER IS LIMITED. THIS UNIT ONLY DRAWS 1.5 AMPS ALLOWING THE WATER DAMAGE TECH- -NICIAN TO PLUG IN UP TO EIGHT OF THESE UNIT ON ONE 15 AMP CIRCUIT. EVEN WITH LOW AMP DRAW, THESE FANS PROVIDE 2000 CFM OF AIR FLOW.
---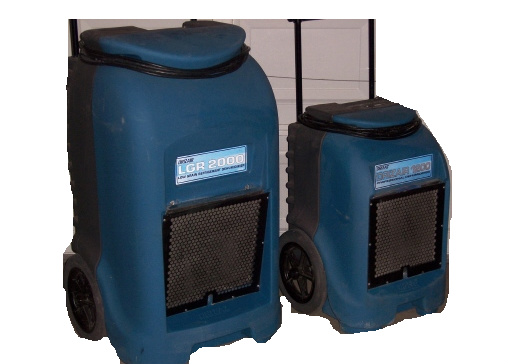 DEHUMIDIFIERS. USED IN CONJUCTION WITH AIR MOVERS IN WATER DAMAGED BUILDINGS. DEHUMIDIFIERS REMOVE EXCESS MOISTURE FROM THE AIR WHILE ALSO EMITTING DRY AIR. THIS PROCESS GREATLY REDUCES DRYING TIME AND MINIMIZES THE RISK OF UNWANTED MICROBIAL GROWTH.
---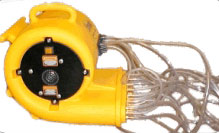 PRESSURIZED HEAT DRYING SYSTEM MAKES DRYING WALL CAVITIES EASIER AND MORE EFFICIENT. PERFECT FOR UNDER SINKS, BEHIND CABINETS AND BUILT IN FURNITURE.
---
Below PRESSURIZED HEAT DRYING SYSTEM in use, photographed by and infrared camera. High heat and forced air makes drying hard to reach areas easy.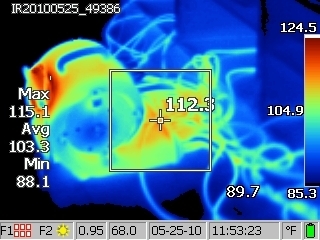 ---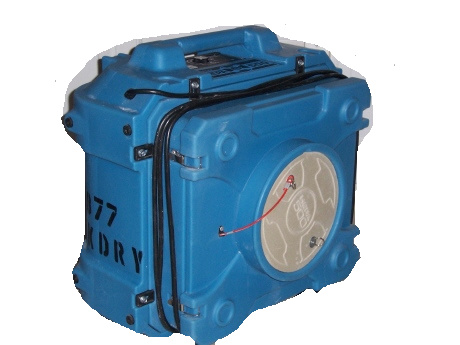 HEPA AIR SCRUBBER, USED TO HELP CLEAN THE AIR ON WATER DAMAGE JOBS THAT INVOLVE SEWAGE OR MOLD ISSUES.
---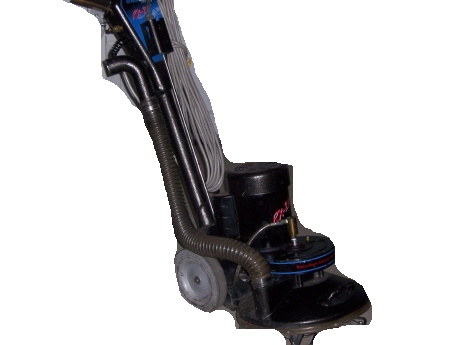 "RX 20" ROTARY JET CARPET CLEANING EXTRACTOR, ABOVE, FOR STEAM CLEANING EXTREMELY DIRTY CARPET OR EXTRACTING LARGE VOLUMES OF WATER FROM LARGE AREAS. BELOW, THE HEART OF THE "RX20", THE CLEANING "STAR" PROVIDES THE CLEANING TECHNICIAN WITH 650 CLEANING PASSES OVER THE CARPET PER MINUTE. FILTHY CARPETS DON'T STAND A CHANCE!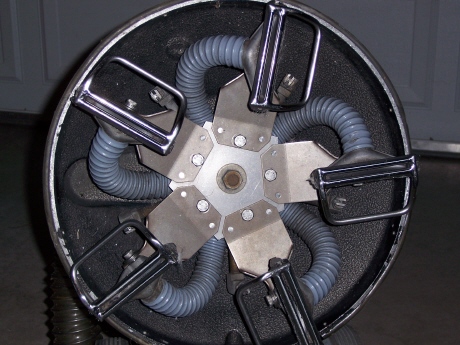 ---
---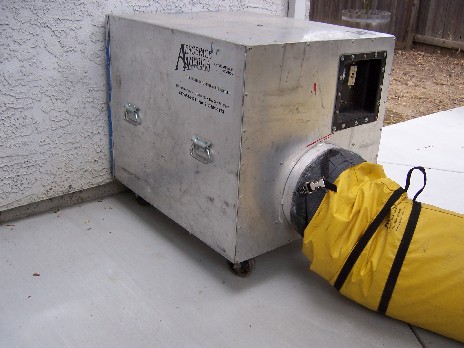 2000 Cubic Feet Per Minute Negative Hepa Air Scrubber.
This machine is primarily used for removing sewer gas and odor from a sewage contaminated crawlspace (underhouse).
---
---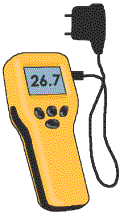 Sensitive moisture meters detect trapped and hidden moisture in and below the surface of building materials. Hidden and trapped moisture, if not discovered and promptly dried, is what causes most of the damage in a water damaged building.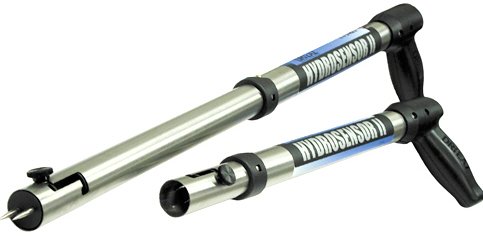 A "Moisture Stick" is used to positively identify carpet and padding that is wet. Often the surface of the carpet will appear or feel dry but the padding and sub-floor below is saturated. This tool identifies these areas.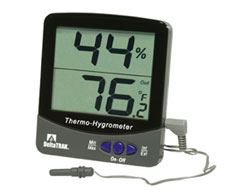 In severely water damaged buildings, a thermal hygrometer is used to monitor temperature and relative humidity. This allows the water damage technician to monitor the amount of moisture in the air and adjust drying equipment accordingly. This practice is called "psychometry". More about our process on our "HOME Page".