To schedule a carpet cleaning appointment, or for any questions you may have, call: 916-985-8973, or toll free at 1-877-784-5379. If your home or business is currently or has recently suffered a water damage, call us 24 Hours, 7 days a week.
Need a carpet cleaner (steam carpet cleaning) for your home or office in Granite Bay or Orangevale, CA? You've come to the right place.
Gimmick free carpet cleaning Price List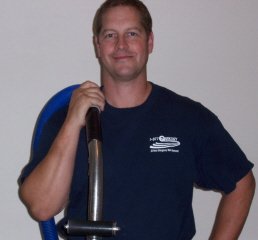 Hi, my name is Roger Christensen, lead technician at 1-877 Quikdry. We here at 1-877 Quikdry, take the care and cleaning of your carpet seriously. High quality, truck mounted carpet cleaning does not have to be outrageously expensive either, we charge just $25 for a regular size room (see "Cleaning Prices"). Our guarantee: you'll be happy with our service or you won't pay a dime! Don't miss our "Before and After" photos below.
---
Honest, Professional, Upfront and Gimmick Free! You should expect nothing less from your Carpet Cleaner. At 1-877 Quikdry, we'll WOW you with our Service.
Proud to be an IICRC "Certified Firm" Why you should trust the cleaning of your carpet to a "Certified Firm", click the "Certified Firm" button to the left.
Our cleaning method "Hot Water Extraction" or more commonly referred to as "Steam Cleaning" is the recommended cleaning method of the world's three leading carpet manufacturer's, SHAW, DUPONT STAINMASTER and MOHAWK. HERE IS OUR THOROUGH, WORRY FREE PROCESS TO PROVIDE YOUR HOME WITH A FRESH, CLEAN, HEALTHY CARPET.
Step #1: PRE-INSPECTION. We pre-inspect your carpet identifying the fiber and construction type, evaluate your needs and recommend the appropriate cleaning method or procedure.
Step #2: ITEMIZED SERVICES. We list services and areas and price them separately before we begin work. You'll feel comfortable knowing what we are doing and what it will cost.
Step #3: PRE-CONDITIONING. In our estimate we include special treatment of heavily soiled entry and traffic areas with pre-conditioning agents.
Step #4: FURNITURE MOVING. At your request, we carefully move small items of furniture, protecting every piece with tabs or blocks to protect your carpet from furniture stains. We clean around heavy or delicate, expensive and fragile items. Some furniture moving may require an extra charge.
Step #5: SPOTS AND STAINS. As part of the job, we pay special attention to spots and stains. Although we never guarantee "stain" removal, most spots and stains are removed during the normal cleaning process.
Step #6: HEALTH AND SAFETY. The cleaning agents and equipment we use are in accordance with safety regulations and manufacturers' recommendations.
STEP #7: RESIDUE FREE. We'll pay careful attention to leave carpet fibers as residue free as possible to prevent rapid resoiling.
STEP #8: QUIKDRY AIR MOVERS. As each area is cleaned, air movers are set up to speed drying. It is very important to us to have your carpet dry and ready for normal use as quickly as possible.
STEP #9: CARPET PROTECTANT. At your request, after your carpet is thoroughly cleaned, we will apply the highest quality protectant to the areas you specificy. Protectant forms an invisible shield around each fiber, which resists soils and stains, keeping carpets looking fresh and new looking longer. Please note there is an additonal cost for this service.
---
Bonus! Spend $90.00 or more and get a free bottle of carpet spotter!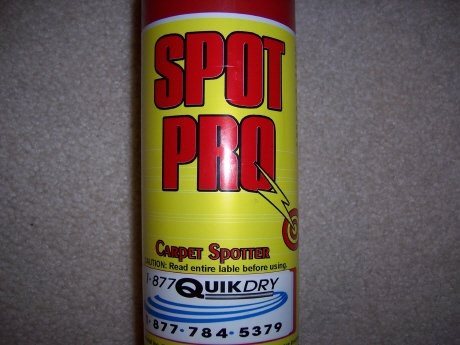 ---
Side by side photo of "cleaned" and "uncleaned" areas.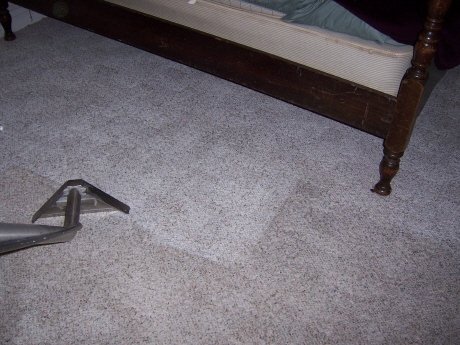 ---
"Before" photo of a highly soiled area near a garage door. Note the high number of grease and oil spots.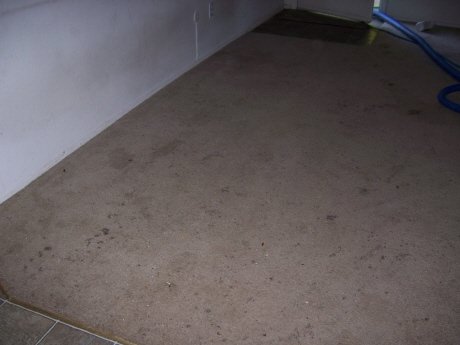 "After" being cleaned by 1-877 Quikdry's, multi-step cleaning process. The Real Estate agent who was trying to sell this house was thrilled!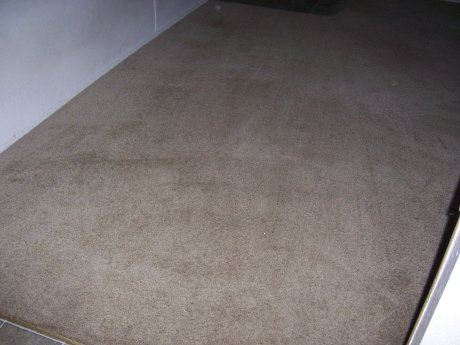 ---
"Before" photo of a hallway coming in from a garage. The people who lived here worked on motorcycles in their living room! The property owners thought that the carpet would have to be replaced.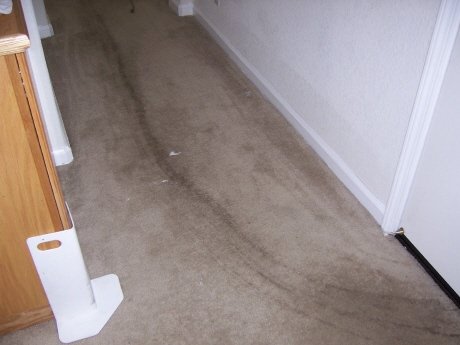 "After" being cleaned by 1-877 Quikdry's, multi-step cleaning process. The property owner's were convinced we saved them several hundred dollars in carpet replacement costs.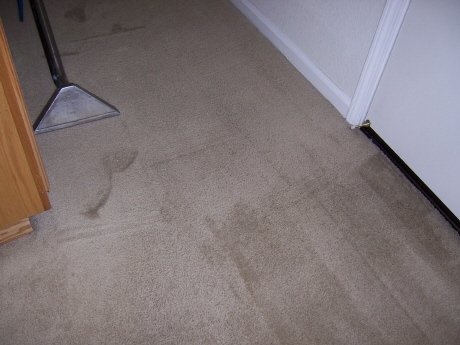 ---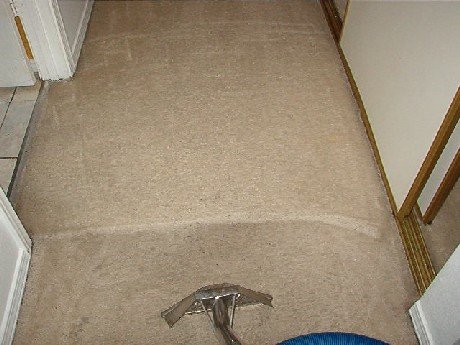 "Before" (bottom of picture) being cleaned by 1-877 Quikdry's Multi-step cleaning process and "After" (top of photo). What a difference!
---
We also offer carpet cleaning services to Roseville, Folsom and Elk Grove. as well as Water damage services.